8/24/2016
Mickey's Very Merry Christmas Party
The Christmas season at Disney World in Orlando, Florida runs from November 7th – January 31st, 2016. Mickey and his friends transform the park during the delightful holiday season with shimmering costumes, amazing decorations, beautiful Christmas trees, special parades, and mouth-watering smells!
Shimmering Costumes
Disney is very creative during the holiday season and dons each character in festive and shimmering costumes according to culture and personality. Santa Mickey, carolers, party guests, and plenty more surprises! The cast also participates in the celebration by wearing special uniforms.

Amazing Decorations
Wreaths, flowers, twinkling lights, and the ice-covered Cinderella Castle create a beautiful sight down Main Street as you enter Disney World during the holiday season. Glistening decorations are spread throughout the forty square miles and my favorite part of a Disney Christmas are the gingerbread houses located at the resorts; the houses vary in theme and size and are unbelievable! The Grand Floridian hosts a gingerbread house that is 16 feet tall. Disney World covers 40 square miles and employees 62k cast members so even the money-making machine of Walt Disney would have trouble turning EVERYTHING into Christmas. But, looking down Main Street through all the wreaths, flowers and twinkling lights at the ice-covered castle proves they've done a great job trying.
​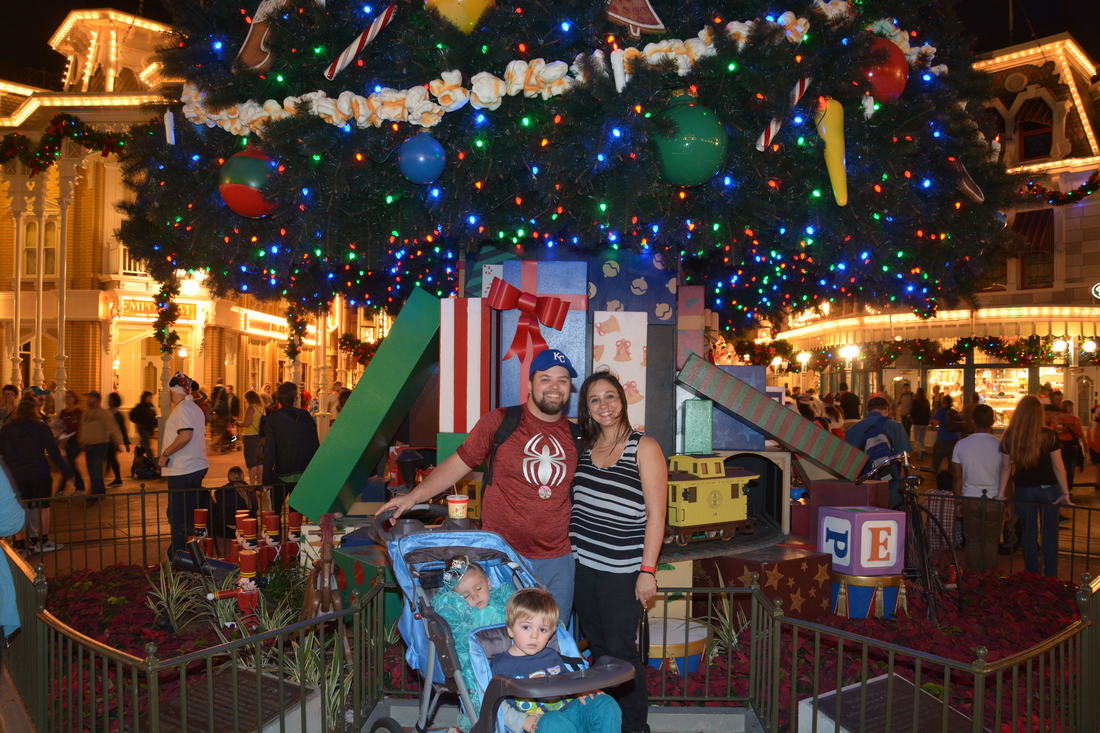 Beautiful Christmas Trees
What is Christmas without a beautiful tree? Every park and resort has a wonderful, picture-perfect, themed tree which makes an excellent setting for a family photo. I suggest taking pictures during the day when there is enough light to see the incredible details of the trees. Even the professional cameras of the photo staff cannot completely capture the magic of the trees at night.
Special Parade
On certain dates throughout the holiday season, the 'Mickeys Once Upon a Christmastime Parade' marches during the 'Mickeys Very Merry Christmas Party'. The 2016 cost for this event begins at $86.00 per person and includes unlimited cookies and hot chocolate located at stations around the Magic Kingdom. The awesome benefit of the party is that attendance is limited and you can walk on almost any ride. A few days before Christmas when the park is open longer they include the parade in the price of a regular ticket.
Mouth-Watering Smells
Every restaurant, snack shack, and street vendor have tantalizing holiday treats added to their menus at Christmas. The larger, sit down restaurants also offer special holiday meals. If you would like this option, call ahead of time for reservations and menu details. The aromas of caramelized pecans, hot chocolate and apple cider, decorated sugar and gingerbread cookies, chocolate chunk cookies, peppermint bark, eggnog, ginger beer, honey chocolate baklava, cinnamon ice cream, turkey legs, holiday funnel cake, candy apple ornaments, and Santa Mickey rice crispy treats waft through the air as you wander through the parks!
Dig out your Christmas sweater and your stretchy pants if you are planning a very Mickey Christmas at Disney World! Call far in advance as reservations fill quickly. Merry Christmas! Angie Harris, Going out the Door

"As long as there's Christmas, I truly believe, that hope is the greatest of the gifts we receive." Belle, Beauty and the Beast, the Enchanted Christmas. If you are a fellow Disney lover and/ or planning to travel to Orlando soon, please join our Going Out The Door Disney facebook group. Thank you!
Attacking adventures, searching for amazing food, and finding new friends.  Home in Branson, MO, or exploring Disney, I am searching for deals, finding new experiences, and sharing stories along the way.